How many times have you spotted something online you wanted to buy but could not because the online store does not ship to Malaysia? This normally happens in online stores based in the US. I, for one, have bought many items from US, but I have had the good fortune of having friends help me ship those items back. Some of my friends were sent to US on work assignments for a few months or years and when they return to Malaysia, they are allowed shipping allocation to ship items back, so what I did was to have my items hop onto their shipment. Of course, the downside to this is I have to depend on the schedule of their return and it could be months before I receive my products.
But what if you spot something you really really want urgently and there was no way to get it except to purchase it from that US store online and get it sent to Malaysia? What if it is a life and death situation? Okay, I exaggerated a little, but you get the idea.
If you own a HSBC credit card, you can do so now. Using something known as vPOST, you can now buy things online from US stores and have them shipped right to your doorstep in Malaysia! vPOST is a Singapore Post subsidiary that gives you overseas delivery when you shop from US websites. I checked this out a few weeks back when I wanted to get some DVDs for Ethan. So how does this work, really?
Register and receive your PIN via SMS or email. You will need this PIN to complete your registration.
When you shop at any online US store, key in your name, PIN and vPOST address.
Email the invoice to inv_malaysia@vpostasia.com
Pay shipping charges
Wait for items to arrive (11-14 days)
All this looked fine and dandy, but I was curious to find out how much the shipping charges were.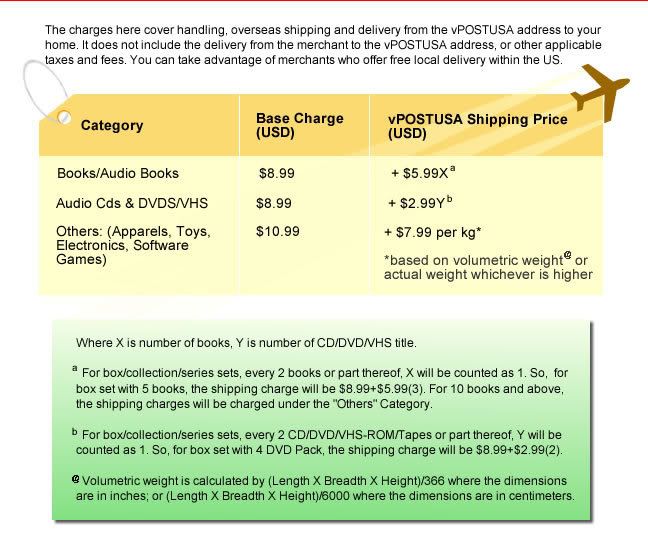 That worked out to be a considerable sum, because if I were to order 3 DVDs, I would need to pay the base charge of USD8.99 + USD2.99 per DVD.  Even with the 10% discount on shipping charges accorded to all new members, it was still a hefty sum to pay.  I scratched this idea and contacted one of my friends who was coming back next month instead.
However, truth be told, if you really desperately need something from an online store in the US, now you know there IS a way. And you know that sexy Victoria's Secret V-string is just a click away!
Photo courtesy of iStockphoto
My fellow shopping kaki Rinnah noticed that I have been slacking on this new blog of mine, so she did what any normal blogger would do. She gave me a supportive nudge in the right direction and tagged me, disguised as a housewarming gift of course!
~ Start copy ~
It's very simple. When you receive this tag, copy the whole list and add your own shopping tip to the bottom and pass it on.
Wear comfy clothing when you're shopping. You don't wanna fuss with too many laces and buttons when you're trying clothes on. http://rinnah-marketplace.blogspot.com
Choose stores offering some kind of reward program, e.g. purchase points, rebates or store coupons. Knowing how the program works and when to use them will save you a lot of money in the long run. http://kakishopping.giddytigers.com
~ End copy ~
I'd like to pass this tag on to these fellow bloggers who I believe ought to be lifetime members of Shopaholics Anonymous!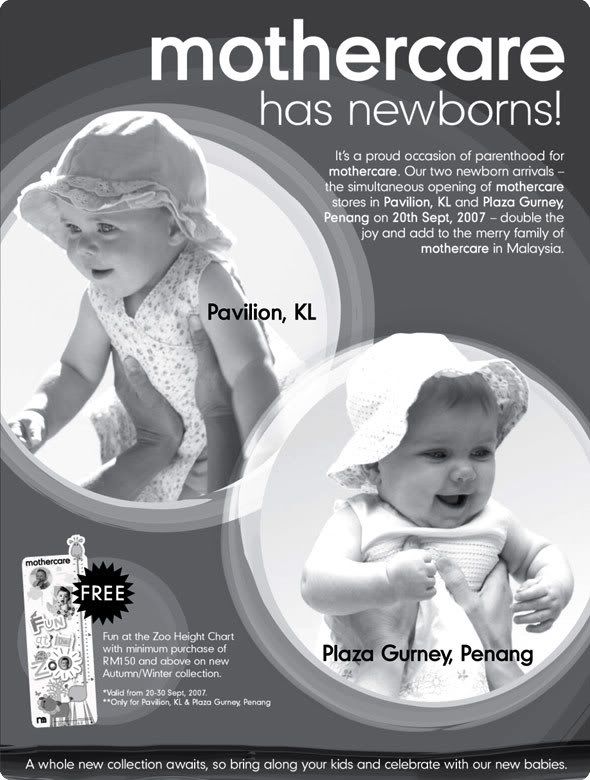 Yes, Mothercare has finally come to Penang! The rumor mill has churned out a TRUE story this time! Now, I don't need to purposely go to KL to buy great baby clothes (with Comfort Pure conditioning on them), I can get it right here! Too bad I won't be able to make my way to Gurney Plaza today for the grand opening to check out the goodies, but that would mean one less Mommy to fight over that gorgeous dress or that great-looking t-shirt!
But watch out, for I will pay this outlet a visit next week…
It's funny how people stumble on ideas. Good ideas jump out at you when you least expect it. And it was the same thing with this blog. The idea to kickstart this shopping blog came to me while I was taking a shower. Of all things! Don't ask me why, it just did.
And so I took it upon myself to start this blog, dedicated to shopping and all things related to it. My experiences with shopping, both good and bad, great bargains and perhaps some product reviews will be the main essence of this blog. From shopping for tiny accessories to huge items like a car or a house, I hope you will find this blog a useful reference to enhance your shopping experience.