I love my Eve Taylor Face Oil. Not only does it smell heavenly (like I am in a garden of roses), it leaves my face feeling really soft and supple, with just the right amount of moisturization it needs. It is difficult to find suitable aromatherapy products for the face because using too concentrated amounts of essential oils on the face will cause breakouts and skin sensitivity. That's why I was delighted when I discovered Eve Taylor's blend of aromatherapy face oils.
I am currently using Face Oil No.1 which is targeted towards sensitive skin. I use it in the morning and night after my toner and before using my moisturizer. With Eve Taylor's face oil, I pour out 5-6 drops and apply it on my face and neck in upward massaging strokes. It is imperative that the oil not be rubbed in the palm before application though. I know it sounds clichéd, but I do feel a certain glow after I apply the oil on my face. And I find it really provides the necessary hydration I need for my skin because my face tends to get really dry being in an air-conditioned environment. This is definitely worth every cent of the RM46 I spent!
 
My order from mphonline arrived today, 7 days after my order was placed!   Although I was only fairly impressed with my online shopping experience there, the package arrived in good condition.  In fact, I was more than happy that they had taken the trouble to put the books in bubble wrap. The books I had ordered were all paperbacks and the bubble wrap certainly kept them in perfect condition, as if they just flew off the shelf into my arms.
There were also surprises in store for me inside the package, for they also presented me with a RM5 cash voucher to be used against future book purchases.  It was not stated if I could use it for online purchases though, but I doubt it.  I also got a 2008 calendar bookmark, presumably to be used when I read the books.  Duh.  And of course, a receipt was included – I stored that away in my book receipt box to be used for income tax relief purposes.
All in all, I am very satisfied with the condition of the books I have purchased.  Great value for money and I will certainly frequent the mphonline site for future book bargains.
Here's the perfect Christmas gift for the man in your life!  Unfortunately, my man bought it today, which makes it not possible for me to get it for him as a gift.  But if you're still hunting for a gift, well, this could be it.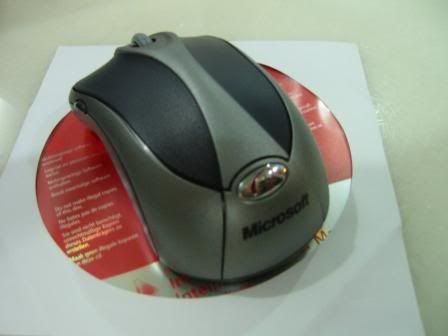 Men always go ga-ga over techie stuff, so you know you won't go wrong with this baby.  It's a wireless mouse from Microsoft!  My hubby just got a new laptop to replace his old one, but unfortunately the trackball on the new lappie is not very ergonomically friendly.  Hence he decided to get a wireless mouse.  This one has a receiver that is inserted into the USB port of the laptop when the mouse is in use, and can also be stored in the mouse (yes, there's a slot for the receiver too!) when not in use.
Another cool feature besides it being wireless and all, is the magnifier button on the mouse.  This is the first time I have seen this and it is pretty helpful, especially when you want to zoom in on certain sections on the screen.  Very cool.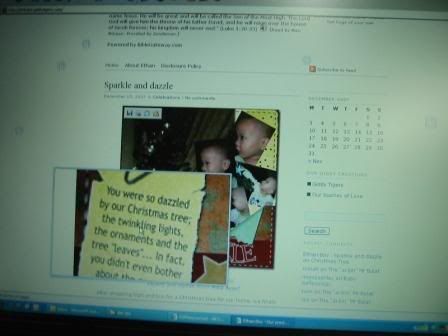 We bought this wireless mouse from Harvey Norman at only RM109, down from the original price of RM159.  On top of that, they even gave us a free umbrella, which we coincidentally needed too.
  Definitely a bargain you don't wanna miss!
Who would have thought we could actually shop for books without even having to physically step into a bookstore? Sometimes it could be rather overwhelming to hunt for that particular book in a gigantic bookstore when you are hard-pressed for time.
So I was rather grateful that I discovered MPH has an online store, aptly named mphonline.com. I was even more thankful when I realized that their online store carried the book that I wanted, Making Chatter Matter, whereas the physical MPH bookstore had already recalled that book. I wanted the English version of this book by Jennifer Eileen Peters but each time I visited either MPH or Borders, all they had was the Malay (translated) version.
I decided to place my order for this book at mphonline yesterday, and at the same time, topped up my order with two other books, just so my total purchase was at least RM80, making it eligible for free shipping. After browsing through the mphonline site, I settled on one of their best sellers, Shopaholic and Baby by Sophie Kinsella (which is eerily an appropriate title for someone in my position, plus it came highly recommended by Rinnah) and Mercy by Jodi Picoult (Ehon loves Picoult's books, so I was curious to read one of her books to find out what the fuss was all about). Both Kinsella's and Picoult's novels which I had picked out were part of the ongoing mphonline monthly promotion where they were priced at a whopping 30% off from the original price!
Eagerly I added those three books to my shopping cart, typed in my shipping details and hit the Submit button. I waited 10 seconds… nothing happened. I waited some more, nothing happened. So I refreshed the page and tried again. Same thing. I then reopened the site in Internet Explorer and tried submitting my online purchase yet again. This time, it went through successfully! I have no idea why the MPH site doesn't allow purchases on Mozilla Firefox though.
Anyhow, after my order was submitted, I was informed that I could check the status of the order online. Being a frequent online purchaser, I had also expected an email to confirm my order, but I didn't receive any up till now. I just logged into my MPH online account and checked that my order delivery status is still Pending. Well, they did state that it would take 1-2 weeks to deliver. So I guess I'll wait and see.
My overall experience with MPH was a rather pleasant one. I was able to browse through the entire bookstore very easily. I loved the fact that there were special discounts offered for online purchases, but the online purchasing system could be further improved, i.e. an email could be sent out to the purchases upon a successful purchase. Also, I wasted some time with the purchase because the system did not work on my Firefox browser. It could be just me, though, but if someone has succeeded in ordering using Firefox, do let me know.
Would I order again from MPH? I would say yes, provided my initial order comes in one piece and on time. I'll provide an update when I receive my books in due course. Other than that, mphonline does indeed live up to its tagline: "Where the bookstore comes to you".
Payment methods: Credit cards, Maybank2u.com internet banking & cash/cheque bank-in
Delivery: Free within West Malaysia, with purchases of RM80 and above. Other delivery rates here.
Ships internationally?: Yes
Overall Rating:
Buying and owning a home of your own must be one of the happiest milestones in anyone's life.  Just the feeling of calling a place your very own is liberating, really.  I know, I've been there before.  So it is of utmost importance that when you are shopping around for your home that you are truly 100% happy and satisfied with everything to do with it.  Finding the perfect locale and then the perfect house to suit your budget might be daunting when you start off, but as the pieces fall together, you will learn a whole lot of new things and at the end of it, you will be definitely be rewarded.
Nowadays, it doesn't necessarily need to be a nightmare when you go house-hunting because you can shop for homes online.  Not only is there a vast selection of homes to feast your eyes on, here at Real Estate, you can also find out how much your current home is worth and get the low-down on the financing options available too.  And if you prefer instead to flip through the pictures of houses that are on sale, there is also the Real Estate Book magazine, which is entirely complimentary.  Makes for great toilet-reading material, if you ask me!