I wrote about the Clarins HydraQuench challenge giveaway sometime back, and I was surprised by the immense interest shown by my readers, some new ones too, really. After all, the word FREE will typically generate a considerable amount of interest. Even though I claimed my free product a while back, I had forgotten to share my experience until I was reminded of it yesterday when I read about Pinkelle's not-too-good experience.
And it all came flooding back to me. Just like déjà vu.
Although my friend's experience was at the counter in The Gardens, Midvalley, it did not differ much from my experience at the Clarins counter in Jaya Jusco Queensbay Mall.
I remember I was doing a quick round of lunch shopping, when I suddenly remembered I had to claim the free product from Clarins. I popped over to the counter and was delighted to note that there were no customers there. I called out to the sales assistant, who was doing something else OTHER than greet me, and she came with a listless expression on her face which seemed to convey, "What is it now?"
I then produced my e-voucher printout and she took out a folder and gave me a survey to fill out. The survey was about a show on TV which I don't watch, hence I can't recall what show it was. But in order to qualify for the product, I filled it out anyway.
Then she gave me the product, which unfortunately was NOT one of the latest range of Clarins HydraQuench products advertised. The sales assistant told me that they had already run out of the Clarins HydraQuench range of products which suited my skin, so instead I was given a moisturizer, but it was one from the old range. And yes, that was the EXTENT of my free skin consultation that was provided.
See, this was the "old-range" moisturizer I was given: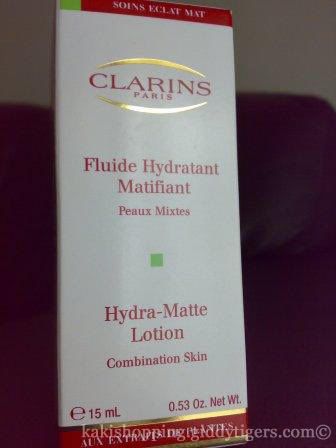 Anyway, I could not insist on the new product because the e-voucher did have a "while stocks last" condition , but then I told her that I did not have time for the makeover at that time, and asked if I could come back at a later date to claim it. She looked slightly shocked, and with a straight face, she told me that the product would only be given out TOGETHER with the makeover. I then asked her if I could give her my e-voucher, take the product and THEN come for the makeover some other day.
Reluctantly, she said ok, but she frowned and warned me that the makeover offer would only be available for a month from that date. I asked her if there was a number I could call to make an appointment for the makeover, and without even looking at me, she lifted the receiver of her phone to reveal the number and read it out to me in a monotonous manner. She didn't even bother writing it out for me! The nerve!
I then asked whom I should ask for when I called up. I thought perhaps they had a makeup specialist who was in charge of makeovers. That's when she looked up rather irritatedly and said, "Anyone who answers the phone will do." She even issued an additional caveat that if there was a customer having her facial done at the time I scheduled my makeover, they would not have enough hands to attend to me.
Oh yeah, and all this time, not a smile from her at all!
No prizes for guessing if I ever went back for that 30-minute makeover.
While doing my grocery shopping a few weeks ago in Jaya Jusco Queensbay Mall, I discovered this: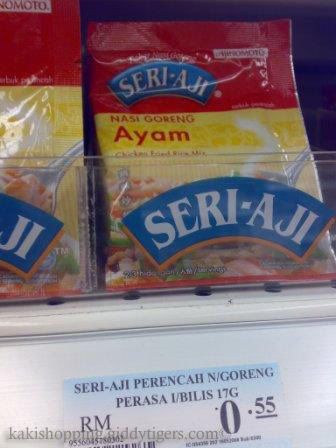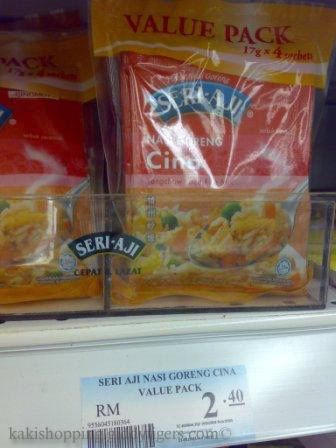 Did you get it the first time? (by the way, all the different flavors of nasi goreng packets cost the same, i.e. 55 cents a packet)
Let me paint a clearer picture for you:
1 packet of Fried Rice mix = 55 sen
1 *value pack* of Fried Rice mix (consisting ot 4 individual packets) = RM2.40
Huh?
It doesn't take someone with an honors degree in Mathematics to realize that it is definitely more economical to buy individual packets huh?
So be WARY when purchasing in bulk. And DO NOT be deceived.
*Updated: I checked the price the following week and apparently they have repriced the value pack at RM2.20 now, but they forgot to remove one of the RM2.40 price tags.
This time of year, when the malls are abuzz with excitement from sales and bargains, make sure you are in the pinkest of health before you even think of heading out into the crowds. I thought the crowds in Penang were already bad as it is, but when I saw the shopping mall in the Klang Valley, I almost reeled over from shock! The amount of people who thronged the malls is enough to warrant an ablation to someone with a weak heart.
Well, it could be due to the fact that there were a lot of Penang car number plates around at that time too, plus I overheard a lot of Hokkien being spoken as well. Hah.
While driving this morning, I caught an ad on the radio publicizing the Malaysia Mega Sale Carnival 2008.  I was surprised to note that they had a website too, and was eager to go check the site out.
The official website of the Malaysia Mega Sale Carnival was simple enough, catchy and interesting with a striking red background. I was eager to discover what goodies it contained, and so I clicked on the Sale Events link.  They had segregated it into the different states in Malaysia, and naturally, since I reside in Penang, I clicked on that first.
But I was disappointed to note that it only listed a miserable THREE shopping locations in Penang, namely Island Plaza, Gurney Plaza and the (hardly ever visited) Gama.  There wasn't even a mention of Queensbay Mall!  And I honestly do not think it is because there are NO ACTIVITIES in Queensbay Mall for the entire Mega Sales Carnival, because I go there every week, and it's really a place that is bustling with activity all the time.
Still, the official site did have a Tourist Privilege Card page which offered various promotions and discounts for tourists.  But truth be told, this site could still do with some major improvements, because it really is a far cry from the official shopping website of our good neighbor, i.e. The Great Singapore Sale site.
By the way, the Malaysia Mega Sale Carnival 2008 is happening July 5th all through September 1st 2008.
Avid shopaholics like yours truly could not ask for more. Nowadays, we are all exposed to ads of various forms and means, from the conventional television commercials to the mainstream print media, targeting newspapers and magazines, and more prevalent these days, ads that make themselves known to consumers via cyberspace.
I am sure many of you are receiving emails from companies advertising their services and products on a regular basis, but this is all child's play compared to the big wave that is hitting the advertising industry, which is known as blog marketing.
Blogs are rampant these days, and I think if I were to throw a stone (metaphorically) in a pool of people, it would hit two or three bloggers at once. At worst, it would hit one person who reads blogs daily.
Because of this, it is inevitable that blog advertising, through various forms, is beginning to become a stronghold in advertising, which also means great news for shopaholics like me. IZEA is a company that promotes blog advertising through different channels like SocialSpark and PayPerPost, using Social Media Marketing services, ranging from blog posts, blog sponsorships and even product sampling. If you ask me, I would certainly buy a product endorsed by a consumer rather than an advertiser, because it shows that the product is really good.
It is a win:win situation for everyone involved because with IZEA, the advertiser broadens its horizons using the powerful tool of blog marketing, and the blogger or shopper gains from the rewards reaped, whether tangible or not.