Upon arrival in California, and in my tired, weary state as we drove from San Francisco to San Jose using the US-101 freeway, something familiar on the left caught my eye.  The blue and yellow building was hard to miss.  YES.  We have IKEA here.
Even better, it was just about 20 minutes' drive away from where we are staying.
Temptation beckons, indeed.
And since we arrived, we have only been there ONCE.  There is ample parking space, and the layout is similar to the Mutiara Damansara one, right from the two-level building to the escalators leading to the main entrance.
I was also surprised to note that most of the items were cheaper than those in Malaysia.  At least the items we were eyeing, that is.
Well, this weekend, we just might make our second visit to IKEA.  Know why?
 
This means a grand savings of 8.25% from the total purchase.  The only thing I will be dreading (if we do go) is probably the crowd.
Shopping in the US of A is a whole different experience than shopping in Malaysia.  For one, most of the things being sold are of different brands.  Oh, in grocery stores, at least here in San Jose, we do get aisles selling Asian stuff but not everything is here.  We also have Asian markets here, selling mostly the stuff you would see in a Malaysian supermarket, and here's where you can find a LOT of Asians doing their shopping rounds.  So stuff like oyster sauce, soy sauce in rather familiar brand names and even seasonings and "cooling tea" concoctions can be found here.
Here are a few differences I have noticed from the shopping experience I have had here so far:
Most of the parking is free.  There are parking lots available in front of the stores and you can park there for as long as you like.  Most of the lots are open-air ones.  I hardly see any basement and multi-storey parking lots here.

Sales tax is chargeable on every item you purchase.  Depending on the US state, the sales tax could vary considerably.  Here, I need to remember that everything I buy will be taxed an additional 8.25%! ..unless I buy stuff online, that is.

When I make a purchase with my credit card, I don't even need to give the credit card to the cashier.  It's pretty much do-it-yourself here.  There is a terminal that allows the customer to select Debit/Credit from the touch screen and then swipe the card themselves.  The approval is almost instantaneous, and we sign on the touch screen and we're all set!
I did notice a few instances of kiasuism on a few occasions though.  Stuff I thought would not be present here, but…. anyhow, in supermarket checkout lanes, there are normally a few lanes for speedy checkouts, i.e. purchases less than 15 items, for example.  I saw these 2 ladies, with a cartful of groceries lining up in this lane, and what they did was…they split their purchases!  So one lady goes through with 15 items and the second lady follows suit with the remainder of the items!  I also saw a couple doing the same thing. 
Hey, I'm not racist or anything, but on these two occasions, these people certainly do not look Caucasian.  SIGH….I guess it's a taste from home, huh?
My life has been a rollercoaster the past month or so.  My family and I have been so busy with our relocation things-to-do, and getting everything settled down in the States, that unfortunately, shopping has come to a grinding halt.  Well, not if you count shopping for groceries and stuff like that.
Anyway, we are here in the States now and I am ever so happy and excited to revive my shopping experiences here!  I try to be as prudent as possible when shopping, because it really is easy to go overboard here.  I need to bear in mind though that sales tax is applicable whenever I shop, except some online stores, that is.
One of my regrets was not being able to place an order for the Bravado Pre-Order Sale sometime back.  It was too close to the date we were to leave Malaysia, and I did not want to run the risk of not being able to get the items on time.
So in the last few days, I was busy surfing the net, trying to land myself a sweet sweet deal for Bravado items.  And that's when I discovered Mom4Life. 
While surveying the prices of Bravado items on the internet, I discovered a site which had a lower price than the one offered at Mom4Life.  And here's where this cool feature called Price Matching comes in.  Mom4Life will offer to match the regular retail price (shipping cost included) of any site with a lower price, to the best of their ability!  I decided to try this feature out, and I was VERY impressed that the customer service personnel at Mom4Life was able to match the price I stated. 
So in the end, I made the purchase at Mom4Life, receiving free shipping on my order as well.  Oh, by the way, Mom4Life offers free shipping on all US orders, with no minimum purchase!  For the month of October too, all purchases over $50 qualify for an exclusive FREE Mom 4 Life t-shirt!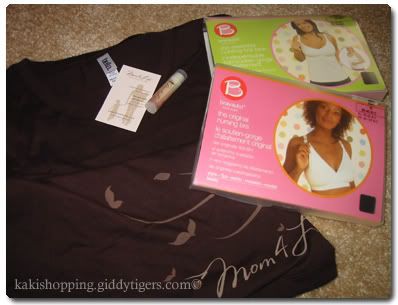 When I received my order today, I was pleasantly surprised that they had included a pepermint lip balm too!  I am very happy with the service rendered by Mom4Life, and in fact, I just might take a peek to see what else there is to order from this wonderful find of a site!