Several months ago, my hubby presented me with a very lovely Coach Carly Optic Signature tote, and I absolutely loved it!  I started using it about week later, but not more than a month after I used it, I noticed to my horror, that the fabric on the sides of the bag had frayed!
Of course, it was because the fabric was not of the really hardy kind, but I was extremely careful when I used it, and it really broke my heart to see the condition of the bag that way.  PLUS, it was a COACH, after all…and I would have expected a certain degree of hardiness to the bag, considering the price paid.  Strangely enough, the bottom of the bag, although made of the same material, did not suffer any tears or frays.
Anyway, I wrote in to Coach in USA, to find out if there was a local Coach store in Malaysia that could help me take a look at the damages and repair the bag, if possible.  I was told to bring the bag to any Coach store for evaluation or send it directly to the USA.  Also, a fee of $20 would apply.
I didn't do so immediately, but waited till my next trip to KL, where I visited the Coach outlet in Pavilion.  The sales person told me that she could not do anything but send it to US for me, for evaluation.  Since that could take weeks, and since I was already about to relocate to the States, I decided to bring the bag to US and see what could be done.
Fast forward a few weeks, and I visited the Coach store in a mall in US.  They told me that they would need to charge a $20 shipping and handling fee, regardless of whether the bag could be fixed or not.  This was definitely unacceptable to me, and I proceeded to email customer service at Coach, explaining my predicament.
A nice young lady then replied to say that since I have been such a loyal Coach customer, they would waive the $20 fee, and all I needed to do was to bring the bag to the Coach store in the mall, to have it sent to the Coach factory in Florida for evaluation…..which was what I did.
That was sometime in November 2008, and I was told that the evaluation and repair would take at least 6 weeks.  Given the year-end holidays, I would only expect my bag back in January at the earliest.  So be it, I thought.  I filled out a form detailing the damages and repairs needed, and waited.
Then one day before I left for my Christmas vacation, a Fedex personnel came knocking on my door,  and passed a Coach box to me.  Surprise, surprise!  I could hardly believe my eyes!  Is this what I thought it was?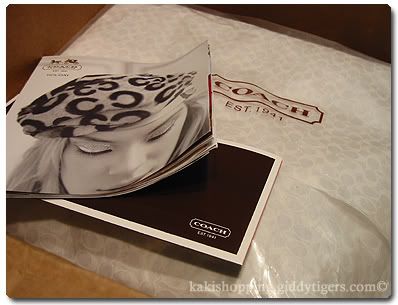 I opened the box up eagerly, and there, nestled snugly in the box, was a white-wrapped package with the Coach label, together with Coach brochures.  I peeled off the wrapper, and what I saw took my breath away.
It looked like a brand-new Carly!  And upon closer inspection, it IS a brand new Carly!  You see, each and every Coach bag has a unique ID attached to it.  This can be found in the inner label of the bag.  When I cross-checked the unique ID of the bag I sent in for repair against the unique ID of the bag I saw in the box, they were both different!
Plus, the leather trimming on the bag had already been worn off, and the one that was sent to me had the strapped all wrapped up nicely.  There was also a slight stain on one of the sides of my original bag, and I knew that Coach did not do bag-cleaning, so the fact that the stain was nowhere to be seen proved that it was brand new!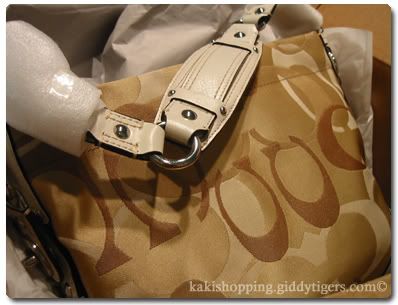 Wow.  I couldn't believe they sent me a new bag in replacement of the old one.  Coach certainly does value its customers, and short of telling me that my bag could not be repaired, they stood by their quality and sent me a new bag instead.  Later that same day, I received a letter from Coach informing me that they had indeed sent me a new bag in place of the old one.
And now, I am finding it so hard to make myself use this brand new bag… in fact, I am eyeing another Coach now, well, this time in a not-so-fragile fabric…