When I first read about Bisphenol A (BPA) being present in baby milk bottles, I was naturally concerned because I was using Avent milk bottles to feed my son, which were not listed as one of the BPA-free bottles.  I tried looking for an alternative but the ones that were available had too many parts in the bottle, and some other brands were only available in the US.  Plus, I was not sure if my son would like a change in bottles, if I were to make that change.
Since then, I know that Avent has been inundated with queries from customers and the media about making their products BPA-free, and now, I am glad that Avent  has finally introduced its line of BPA-free bottles.  I found that out recently and of course, I placed an immediate order for these new BPA-free bottles.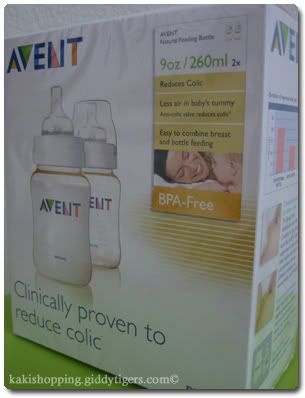 The bottles look exactly like its non-BPA-free predecessors, and come in 4 oz and 9 oz sizes.  Priced at $9.99 per bottle and $18.99 per pack of 2 bottles, they are considerably more expensive than the non-BPA-free bottles, but it's the price we parents pay for peace of mind.  There is no price difference between the 4 oz and the 9 oz bottles though, and till now, I do not know why.
The BPA-free bottles come with a slow flow nipple (No. 2) on each bottle and have a natural yellowish, brownish tint to it, so don't mistake this for the bottle being unhygienic.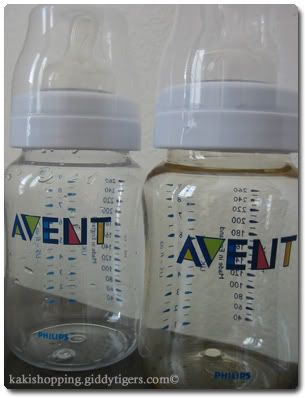 See the difference between the bottles?  The one on the left is the old non-BPA-free bottles, and the one on the right is the BPA-free one.
Avent has certainly done the right thing with the introduction of these bottles, and many moms out there will be thankful for it. I believe the older bottles would be phasing out soon to make way for these new ones.
In addition to BPA-free milk bottles, Avent has also introduced the BPA-free ISIS breast pump to complete the picture.
Avent BPA-free products can be purchased online or from stores.  I got mine from drugstore.com.