Well, I have to admit, Louis Vuitton was never my style.  I mean, I don't think I'll spend money buying one, but if I were to get one FREE, that would be a different story altogether!
Check out Shopping Lifestyle's Reader's Contest, where you stand a chance to win a Louis Vuitton Neverfull Bag! 
Hurry!  Closing date is on Merdeka Day and the contest is only open to Malaysian and Singapore residents.
I don't know about you, but if I can go shopping and do it in style AND at the same time be kind to the environment, I'm all up for it.  I already own 2 of the Envirosax, and since I have been hearing nothing but rave reviews about the RuMe bags, I had been itching to try them out for myself.
So I grabbed my chance today and took advantage of the free shipping RuMe promotion offered by Tiny Tapir till the end of June.  Yep, only a few more hours to go to enjoy this offer!  But if you're choosy like me, you had better check out the collection now, cuz I know I took a long time deciding which color/design  to get from the entire collection of RuMes!
I can't wait to give my bags (yup, I got TWO!) a trial run when I get back to Malaysia soon!  You can be sure I'll be reporting here soon after my experience with them!
Happy shopping everyone!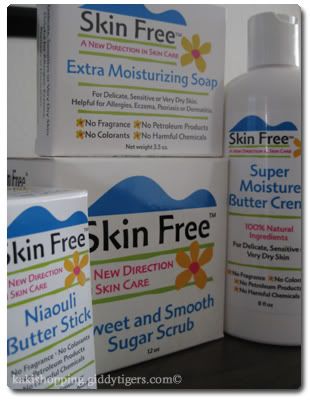 A couple of weeks ago, I received a very nice package of products from Skin Free skincare.  This is a company that specializes in products targeted at individuals with extremely sensitive skin.  As a long-term sufferer of eczema, I was excited to give these products a go, and specifically requested for the products that would help me with healing my eczema totally.
So far, I have managed to try the following two products:
Here's a really useful tip for all you shoppers out there: Pay with PayPal.
This is especially true if you are buying stuff from ebay.  Most, if not all, of the ebay purchases via PayPal are protected by the  Buyer Protection Clause, which protects the buyer with 100% of the original purchase price and shipping.
I had the rare opportunity of experiencing how this works just recently.
I had won bids on ebay for 4 books, but just before I paid for them, I saw that one of the books cost much less in my local Walmart.  So I emailed the seller and asked her to remove the book from my invoice.  I then paid her for the 3 books plus shipping and handling.
After a few days, when I did not receive word from the seller on whether the books had been shipped, I emailed her.  This went on for days without any reply.  And then suddenly I received an email from PayPal instructing me NOT to make payment to the seller because the listings for the items had been removed from ebay.
Well, since I had already made the payment, I proceeded to the PayPal Resolution Center to lodge a complaint and claim.  PayPal immediately launched an investigation into the case, and emailed the seller with a period of one week to respond.
When no word was heard from the seller, the case was settled in my favor and the entire payment I made was refunded into my PayPal account.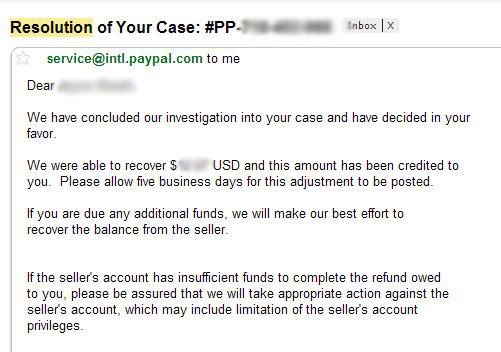 So play it safe and pay with PayPal.