I'll be the first to admit that over the past two weeks, I have been drawn to come back again and again to the Banana Republic outlet store at the nearby mall.  The gorgeous tops and dresses they had sure played a big role in influencing my decision, and it was also all those signs outside screaming 40% off and 50% off!
But last week, after I made a purchase, I was given this card:
 
It is such an ingenious idea to get people to come back again to the store.   With this card, every purchase of $25 entitles the holder to a chop.  Collect 4 chops and you get 20% off your future purchase.  So if a particular item is on 40% discount, with this card,  you'll get 40% + 20% (plus more chops on the card if our purchase is more than $25)!!!
Anyway..here's where I stand right now:
 
I redeemed the first 20%, but I still have 2 more 20% offers unredeemed.
It looks like I won't be able to use them anyway, because I will be leaving California soon
Is it any wonder why I'll miss the shopping here?
 
Lunapads International is a women-owned small business based in Vancouver, Canada.  This company prides itself in creating products for women, especially for use in their menstrual cycles, that help promote a healthier lifestyle as well as making the earth a greener place to be in.  Lunapads offers a diverse selection of products designed to meet the unique needs of women of all ages. 
Prior to giving birth to my second child, I had tried Lunapads in the Maxi size, but was not totally in love with it.  I wanted the Maxi to be longer but it was not.  So when I had the opportunity to try the Heavy Lunapads especially suited for postpartum use and heavy flow days, I was excited.
 
I only had two Heavy Lunapads, and of course they weren't enough to sustain the whole of my postpartum period, so I used them interchangeably with the rest of my cloth pads, but you know what?  The heavy Lunapads were by far my favorites.  They were wide enough and long enough.  The pads are made from 2 layers of 100% cotton flannel based topped with a central pad made with 1 layer of ultra-thin nylon and 2 layers of 100% cotton fleece, plus ric-rac bands to hold the liners for added absorbency.  They also come with sewn-on 3 snap plastic fasteners.
I also love the vibrant colors they came in, and no, they did not stain at all!  Because I chose not to soak the pads, I washed and rinsed them immediately when I changed a new pad.  I used just warm water, and then I would throw the rinsed pads into the washer and dryer.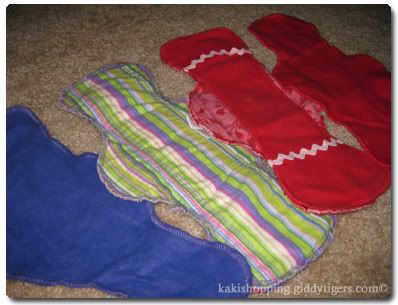 I admit I used the disposable maternity pads earlier on for a week or so, but after I ran out, I was on cloth pads all the time.  So much more comfortable and it feels great to do my bit for the environment!
Using Lunapads as postpartum pads is definitely the gentle way to go if you have had an episiotomy.  I didn't, but I would imagine using natural materials such as those on the Lunapad would be better than subjecting the episiotomy wound to harsh chemicals from dispoable pads.
Initially I was worried that I would find it a hassle to use cloth pads after delivery, but it does not take up much time at all.  As I mentioned earlier, I simply wash and rinse them with water, and then toss them into the washer.  Takes me just a minute or so before I shower.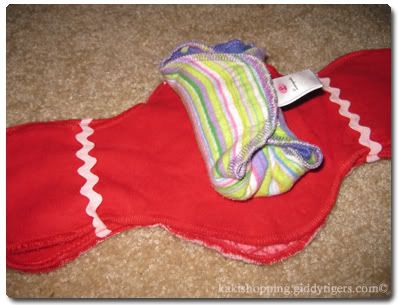 The Heavy Lunapads can be folded and snapped shut for storage especially when it is soiled and you don't have immediate facilities to rinse it out, but because it was quite large, I found it hard to button up.  I didn't have to use this button feature at all though, but it would be good to make the wings a little longer for easy buttoning.
All in all, I am glad to have had the opportunity to experience the Lunapads myself, and would recommend it to any woman who want to feel healthier.  Use them for your menstrual periods or try them out postpartum if you are about to deliver a baby soon.  Hey, so many people who have tried them can't be wrong, right?
Lunapads can be purchased online from the Lunapads site or from any of the other locations worldwide.
Now how would you like to win some Lunapads for yourself?  Whether you are just starting out on your cloth pads collection, or if you'd like to add some to your existing stash, you know Lunapads will certainly be a welcome addition!