I love getting books for my kids. There's something so magical and wonderful about children's books that is ever so engaging. Maybe I am drawn by the colorful illustrations, and the fantasy aspect of it. Or maybe, deep down inside, I am just a child at heart..
That's why I was eager and excited when I heard about a little online bookshop started by a mom, called the Little Red Reading Nook.  First of all, the name is very catchy, and I was intrigued by the idea that the books are selected personally by a mother for her kids, because this meant that we shared a common interest.
Next, I was super-elated to find out that this little bookstore is running a giveaway now.
 
So if you're into children's books and reading, why not pay a visit to this online bookstore?  They've got great books at fantastic prices too!  And while you're at it, check out the giveaway too!  It ends this coming March 3rd 2010.
 
I had the honor of reviewing the lovely collection of children's books from the Dr Hippo series recently.  There are currently five books in the entire collection, and each book tells the story of a young animal character falling ill, and what he/she does to get better, all thanks to a friendly pediatrician fondly known as Dr Hippocrates, or in short Dr Hippo.
The Moose with Loose Poops
Peeper Has a Fever
Sadie's Sore Throat
Katie Caught a Cold
The Little Elephant with the Big Earache
 
Unlike most children's books which always have happy, healthy characters, these stories, wriiten by Dr Charlotte Cowan, a board certified pediatrician, provide kids with the real truth that we all do get sick at some point in our lives, but most importantly Dr Cowan stresses that we get better after that, if we follow doctor's orders.
 
Serving the mission of the Dr Hippo series to write age-appropriate stories for sick children that entertain, educate and reassure both parent and child and to provide guides for parents which answer common questions, offering advice about when to call or visit the doctor and how to comfort the child at home, these books are definitely a great educational resource for the entire family.
My three-year-old son is now crazy over these books!  He loves the colorful illustrations, the stories and the characters in them.  In fact, he learnt the term "loose poops" from reading them too!
The language used in these books provide for a smooth story-telling, although it would be advantageous to the parent to read the story first.  I also like the fact that for temperature readings in some of the books, Dr Cowan gave both the readings in Centigrade and Fahrenheit, so it's applicable worldwide.
 
These very educational books all come with a handy laminated parents' guide at the back sleeve of the book.  They serve as excellent reference for parents who want to know the nitty-gritty of their child's illness and what to do.  You know what?  My hubby and I learnt that ice cream and popsicles are good to ease sore throats!!
 
My son and I have enjoyed reading the Dr Hippo series tremendously.  And if you have kids at home, this definitely ought to be in your book collection.  The Dr Hippo collection is available online through Amazon.
And oh by the way, do check out Dr Hippo's blog too!
All photos credited to The Hippocratic Press.
Just last week, I was scouring the online bookstores, and physical ones as well, looking for a recipe book on my list of books-to-buy.  Lately I am so into kitchen experiments that I am finding renewed inspirations in recipe books.  In addition, I am addicted to the Asian Food Channel too.
Well, anyway, to cut the long story short, I called up Borders and found that they have a copy of what I wanted, but that Friday, when I visited the store in Queensbay Mall, I could not find it.  Maybe cuz I was in a hurry.  In any case, there were no discounts for the book then.  So I decided to wait it out.
Actually I harbored a secret.  I had looked at my previous Borders spending spree records and discovered that last year, there would be a sale at the end of June.  The sale would entitle me to purchase a full-priced book at a hefty 20% discount, with the purchase of any magazine.
And the wait actually paid off.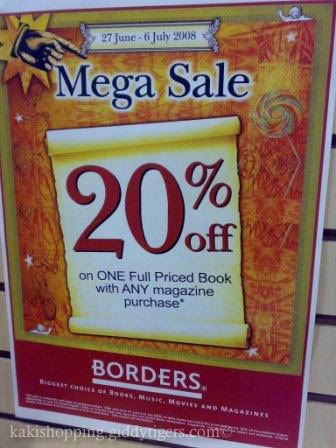 Last Friday, when I was out shopping, I was delighted to find out that indeed Borders was on sale.  The sale runs from June 27 – July 6 2008, and yes, the offer of 20% off for a full-priced book with every magazine purchased was on.  Yay me!
Patience definitely has its perks.  Now I can get myself inspired.
Just as I was about to log in to Amazon and place my order for the debut novel written by my good friend, Preeta, I discovered that it is available now at mphonline. What's even sweeter is that it is currently being sold at a hefty 30% discount! This discount is only applicable on purchases made online though.
Of course, I wasted no time in getting a copy, and am now patiently awaiting the arrival of my book. Never mind that I have an unfinished novel sitting by my bedside, I'm gonna read Preeta's book first!
If you'd like to know what the book is like, please go visit Preeta's site or click on the article below from June 2008′s TimeOut KL magazine:
With a few more days left for the Borders Anniversary Sale (which runs from 25 April -4 May 2008), I visited the store in Queensbay Mall yesterday hoping to get myself some books at a bargain. Oh okay, I lied. I didn't *know* there was a sale going on till I walked in.
Almost everything was on discount for at least 15%, even the books that were in the bargain bins. Actually I didn't know that till I paid for them. There were also some good books going for 30% discount, but nothing caught my fancy, unfortunately or fortunately. I got 2 books for Ethan, and Sophie Kinsella's latest hardcover for myself (this one was a steal at 20% off). Bliss!  I've already started reading it!