Well, it's not because my purchases are all paid for by someone else (how I wish!), rather it is because I have successfully transferred money from my Paypal account into my Citibank Visa credit card! Yes, finally all my hard-earned virtual Paypal money can now be in my hands! Last week, I tried with an initial amount of USD200. First, I selected the Withdraw option under My Profile. Next I chose the Withdraw funds to your Card option. This option will incur a USD5 fee per transaction. Now before you decide to transfer huge amounts at any one time, please bear in mind that the maximum daily withdrawal limit in Paypal is USD500, so go easy on the amount you withdraw lest your Paypal account gets frozen.
After I clicked on that option, I chose to add a credit card. I already had a HSBC credit card added in my Paypal account, which I previously used for verification of my Paypal account but I didn't want to transfer my funds to my HSBC card because I had heard that HSBC will send me a demand draft instead. I didn't want the hassle of having to go to a bank to bank in the cheque and all, so I opted for the Citibank credit card route. So I keyed in the details of my Citibank Visa credit card and then entered the amount I wanted to transfer. Because of the USD5 transaction fee, the amount transferred to my Citibank Visa credit card was USD195 only. The status of the transaction immediately appeared in my Paypal account as In Process and I was also sent an email to inform me that my withdrawal was in process. This all happened on Nov 5 2007.
The next day, when I checked the status in Paypal, the transaction showed up as Completed. I was ecstatic and hurried over to my Citibank credit card online account to check. Unfortunately it had not been updated in my account yet, so I decided to wait it out. The next day, well actually a little bit past midnight, I checked my credit card account and yes, indeed the transaction has been reflected as a CREDIT in my credit card account
The amount of RM652.79 was a result of the exchange rate of 3.347. Not too bad. Being as busy as I am, I find it hard to make time to go to the bank to open a debit card account just for my Paypal money. Yes, some may argue that if we transfer the money into our credit card accounts, we don't get to *see* and *touch* the cash, but this method suits me fine. Plus it only took all of 4 DAYS to complete the whole transaction.
Best of all, this amount can now be used to offset whatever I spend on shopping.
How many times have you spotted something online you wanted to buy but could not because the online store does not ship to Malaysia? This normally happens in online stores based in the US. I, for one, have bought many items from US, but I have had the good fortune of having friends help me ship those items back. Some of my friends were sent to US on work assignments for a few months or years and when they return to Malaysia, they are allowed shipping allocation to ship items back, so what I did was to have my items hop onto their shipment. Of course, the downside to this is I have to depend on the schedule of their return and it could be months before I receive my products.
But what if you spot something you really really want urgently and there was no way to get it except to purchase it from that US store online and get it sent to Malaysia? What if it is a life and death situation? Okay, I exaggerated a little, but you get the idea.
If you own a HSBC credit card, you can do so now. Using something known as vPOST, you can now buy things online from US stores and have them shipped right to your doorstep in Malaysia! vPOST is a Singapore Post subsidiary that gives you overseas delivery when you shop from US websites. I checked this out a few weeks back when I wanted to get some DVDs for Ethan. So how does this work, really?
Register and receive your PIN via SMS or email. You will need this PIN to complete your registration.
When you shop at any online US store, key in your name, PIN and vPOST address.
Email the invoice to inv_malaysia@vpostasia.com
Pay shipping charges
Wait for items to arrive (11-14 days)
All this looked fine and dandy, but I was curious to find out how much the shipping charges were.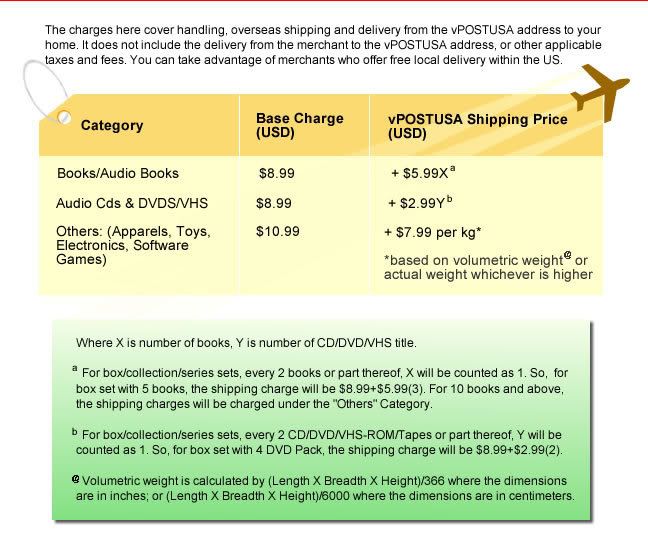 That worked out to be a considerable sum, because if I were to order 3 DVDs, I would need to pay the base charge of USD8.99 + USD2.99 per DVD.  Even with the 10% discount on shipping charges accorded to all new members, it was still a hefty sum to pay.  I scratched this idea and contacted one of my friends who was coming back next month instead.
However, truth be told, if you really desperately need something from an online store in the US, now you know there IS a way. And you know that sexy Victoria's Secret V-string is just a click away!