Just last week, I was scouring the online bookstores, and physical ones as well, looking for a recipe book on my list of books-to-buy.  Lately I am so into kitchen experiments that I am finding renewed inspirations in recipe books.  In addition, I am addicted to the Asian Food Channel too.
Well, anyway, to cut the long story short, I called up Borders and found that they have a copy of what I wanted, but that Friday, when I visited the store in Queensbay Mall, I could not find it.  Maybe cuz I was in a hurry.  In any case, there were no discounts for the book then.  So I decided to wait it out.
Actually I harbored a secret.  I had looked at my previous Borders spending spree records and discovered that last year, there would be a sale at the end of June.  The sale would entitle me to purchase a full-priced book at a hefty 20% discount, with the purchase of any magazine.
And the wait actually paid off.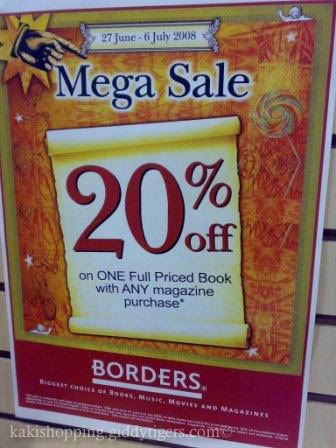 Last Friday, when I was out shopping, I was delighted to find out that indeed Borders was on sale.  The sale runs from June 27 – July 6 2008, and yes, the offer of 20% off for a full-priced book with every magazine purchased was on.  Yay me!
Patience definitely has its perks.  Now I can get myself inspired.
With a few more days left for the Borders Anniversary Sale (which runs from 25 April -4 May 2008), I visited the store in Queensbay Mall yesterday hoping to get myself some books at a bargain. Oh okay, I lied. I didn't *know* there was a sale going on till I walked in.
Almost everything was on discount for at least 15%, even the books that were in the bargain bins. Actually I didn't know that till I paid for them. There were also some good books going for 30% discount, but nothing caught my fancy, unfortunately or fortunately. I got 2 books for Ethan, and Sophie Kinsella's latest hardcover for myself (this one was a steal at 20% off). Bliss!  I've already started reading it!
Posted by Giddy Tigress on April 28th, 2008 filed in Books |

Comments Off