I wrote about the Clarins HydraQuench challenge giveaway sometime back, and I was surprised by the immense interest shown by my readers, some new ones too, really. After all, the word FREE will typically generate a considerable amount of interest. Even though I claimed my free product a while back, I had forgotten to share my experience until I was reminded of it yesterday when I read about Pinkelle's not-too-good experience.
And it all came flooding back to me. Just like déjà vu.
Although my friend's experience was at the counter in The Gardens, Midvalley, it did not differ much from my experience at the Clarins counter in Jaya Jusco Queensbay Mall.
I remember I was doing a quick round of lunch shopping, when I suddenly remembered I had to claim the free product from Clarins. I popped over to the counter and was delighted to note that there were no customers there. I called out to the sales assistant, who was doing something else OTHER than greet me, and she came with a listless expression on her face which seemed to convey, "What is it now?"
I then produced my e-voucher printout and she took out a folder and gave me a survey to fill out. The survey was about a show on TV which I don't watch, hence I can't recall what show it was. But in order to qualify for the product, I filled it out anyway.
Then she gave me the product, which unfortunately was NOT one of the latest range of Clarins HydraQuench products advertised. The sales assistant told me that they had already run out of the Clarins HydraQuench range of products which suited my skin, so instead I was given a moisturizer, but it was one from the old range. And yes, that was the EXTENT of my free skin consultation that was provided.
See, this was the "old-range" moisturizer I was given: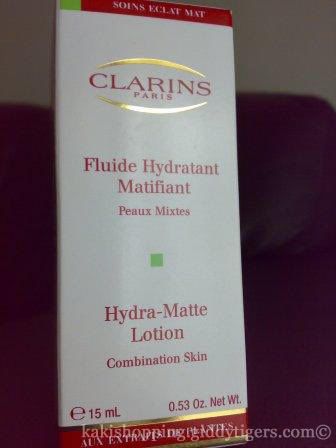 Anyway, I could not insist on the new product because the e-voucher did have a "while stocks last" condition , but then I told her that I did not have time for the makeover at that time, and asked if I could come back at a later date to claim it. She looked slightly shocked, and with a straight face, she told me that the product would only be given out TOGETHER with the makeover. I then asked her if I could give her my e-voucher, take the product and THEN come for the makeover some other day.
Reluctantly, she said ok, but she frowned and warned me that the makeover offer would only be available for a month from that date. I asked her if there was a number I could call to make an appointment for the makeover, and without even looking at me, she lifted the receiver of her phone to reveal the number and read it out to me in a monotonous manner. She didn't even bother writing it out for me! The nerve!
I then asked whom I should ask for when I called up. I thought perhaps they had a makeup specialist who was in charge of makeovers. That's when she looked up rather irritatedly and said, "Anyone who answers the phone will do." She even issued an additional caveat that if there was a customer having her facial done at the time I scheduled my makeover, they would not have enough hands to attend to me.
Oh yeah, and all this time, not a smile from her at all!
No prizes for guessing if I ever went back for that 30-minute makeover.
Who's up for some freebies?
How does the following sound to you?
- A FREE Clarins trial product
- A FREE skin consultation with Clarins professionals
- A complimentary makeover!
All you have to do is take the Clarins Hydra Quench Challenge, and you'll be entitled to an evoucher, which you then print and bring to the Clarins counter of your choice to claim your freebies.
And it's also a very simple challenge: you just gotta keep clicking at some silhouettes on the screen with your mouse to keep the "moisture level" indicator up. Just keep clicking for 30 seconds and you'll be rewarded with the evoucher.
Go try it now! I just did…and I'll be claiming my stuff at Clarins soon…. wheee!!! Another makeover!!! And a free Clarins product too, which I am quite sure would be one of the products from the new Clarins Hydra Quench Multi-Climate range, which Clarins claims are the first self-adjusting moisturizers that protect in extreme heat or chilling cold. I've always wanted more moisture for my skin, so I'm more than ready to try them out.