When I relocated to the US, I brought along 2 little bottles of Eve Taylor Face Oil, one in No.1 and one in No.4.  I have been using Eve Taylor's Face Oil for a little over a year now, and I love it to bits.  Initially it caused me to break out a little, but by and by, I reaped the benefits contained in the little bottle.  Not only did it smell good, it left my skin feeling hydrated the whole day long.  I use Face Oil No.1 for the day and Face Oil No.4 for the night.
I started using 5-6 drops each time, but now I find that using just 3 drops works just as well.
A couple of weeks ago, I discovered to my dismay that I was about to run out of the face oil.  And being in such dry weather here in the US, I hated to think what my skin would become.  Yes, I could make do with just moisturizer, but it may not be enough.  So I contemplated asking a friend of mine in Penang to get me some more and pass it to someone who would be in Penang to bring back to the US for me.
However, I stumbled upon Face Etc on the net while hunting for bargains on Eve Taylor Face Oil, and discovered that they do indeed carry it, albeit they did not list Face Oil No. 4 in their store.  Nevertheless, I sent the Face Etc customer service an email to inquire, and I received a reply informing me that they could place a special order for Face Oil No. 4 for me!  Whooopeeeee!!!!
The face oil costs RM46 in Malaysia for a bottle of 10ml, whereas if purchased here in the US, it costs USD33.50 (RM120.93) for a bottle of 30ml.  Face Etc is selling it at USD30.15, so it was a tad cheaper. 
Yesterday, both bottles of my face oil arrived in excellent condition.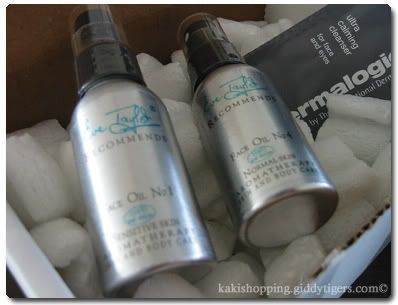 There were also a couple of Dermalogica samples in the box for me to try out.
The packaging of the 30ml face oil is different from the 10ml one, in that the 30ml bottle comes with a spray, whereas the I had to tilt the bottle of the 10ml one to dispense the oil drop by drop.  With the spray, I simply sprayed once onto my palms and apply it gently on my face.
 
And with 30ml?  Boy, that's gonna last me a long, long time!
I love my Eve Taylor Face Oil. Not only does it smell heavenly (like I am in a garden of roses), it leaves my face feeling really soft and supple, with just the right amount of moisturization it needs. It is difficult to find suitable aromatherapy products for the face because using too concentrated amounts of essential oils on the face will cause breakouts and skin sensitivity. That's why I was delighted when I discovered Eve Taylor's blend of aromatherapy face oils.
I am currently using Face Oil No.1 which is targeted towards sensitive skin. I use it in the morning and night after my toner and before using my moisturizer. With Eve Taylor's face oil, I pour out 5-6 drops and apply it on my face and neck in upward massaging strokes. It is imperative that the oil not be rubbed in the palm before application though. I know it sounds clichéd, but I do feel a certain glow after I apply the oil on my face. And I find it really provides the necessary hydration I need for my skin because my face tends to get really dry being in an air-conditioned environment. This is definitely worth every cent of the RM46 I spent!