When you walk in to get just ONE t-shirt, you will inevitably end up buying at least 3 or 5 pieces. Â Trust me. Â I've been there.
Plus, if you're a GAP member, I think you'll get additional 10% on top of your purchases.
I'm itching to go, but I just might not this year, because I need to curb my spending. Â In addition, my GAP membership just expired last month.
For several months now, I have been wondering where the Baby Gap/Kids Gap store in Queensbay Mall had disappeared to.  There is no signage informing customers, just a closed-up store each time I walk past.
The Gap store for adults is still open, so last weekend I made it a point to ask the sales assistant in The Gap.  Coincidentally, I noticed the lady who used to work in Baby Gap/Kids Gap on duty in The Gap too.  So I asked her and found out that there were plans in place to merge The Gap and Baby Gap/Kids Gap in Queensbay Mall into one huge store, but the merge (and hence new store) will only be ready in December 2010!
I guess I shall have to do my Baby Gap/Kids Gap shopping in the Klang Valley until then …
Avid GAP shoppers, especially if you are from Penang, this might be of interest to you!
I indulged in a mini shopping spree for my kids at The Gap in 1 Utama PJ a few weeks ago.  And as the sales personnel was ringing up my total, she asked if I was a GAP member.  I answered no, because well, I wasn't.  And she proceeded to explain that I could use my total spending for that day in accumulation for purchases towards getting a GAP membership.
After a little bit of inquiring back and forth, I discovered this:
Only purchases from GAP outlets in the Klang Valley count towards accumulation of purchases to acquire the GAP membership.  To be a GAP member, you need to spend RM700 either in a single receipt, or over a period of 6 months.  The caveat is that all purchases MUST be from GAP outlets in the Klang Valley (KLCC, The Gardens, 1 Utama, Mid Valley Megamall).
Purchases from the GAP store at Queensbay Mall, Penang DO NOT count towards a membership with GAP.
You cannot apply to be a GAP member in Penang, but you can do so in the Klang Valley.
However, if you are already a GAP member, then you still get to use your card and discounts at any GAP store in Malaysia.
Your friends and relatives and anyone you know can help you accumulate purchases.  They just need to quote your cellphone number when they make their purchases at GAP, assuming they themselves are not accumulating purchases for a membership of their own, that is.
GAP merchandise in the Klang Valley and Penang are totally different.  I walk into the GAP store here in Penang and end up getting nothing, but I end up getting RM500 plus of stuff at the store in 1 Utama.
So now I need another RM200 + worth of GAP purchases (from the Klang Valley) within the next six months to qualify for the GAP Membership.  Anyone wanna help me?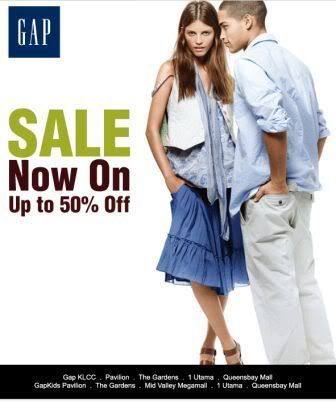 … but I will NOT be going.
Yeah, you heard me right….
Why?
I need to refrain from spending excessively and limit my spending to only on my needs. The last few times I visited the GAP when it was on sale, I ended up buying bagloads of stuff. Oh, they were all really cool and gorgeous stuff of course, and all were on sale, some even up to 60% discount! I have THREE black dresses from the GAP now, all favorites of mine and all bought during the sale.
So yeah, of course I am yearning to step into the GAP during the sale, but I am afraid I won't be able to restrain myself. Well, perhaps if I walk in without a credit card, that could work… and I am also feeling an immensely strong force pulling me to the Baby GAP store too.
HELP!!!!
The GAP Sale starts today, July 4 2008.
You folks in the Klang Valley are so so lucky! How I envy you!
Not only are you guys privy to all the coolest factory outlet sales, I just found out that tomorrow, May 14 2008, there will be a one-day Gap giveaway happening at 1 Utama.
If you are one of the first 50 customers, you will be entitled to either one of the following:
A RM30 shopping voucher with a minimum purchase of RM50 in a single receipt (which isn't very difficult to attain when shopping at The Gap)
A Gap t-shirt worth RM99 with a minimum purchase of RM120 in a single receipt (tip: Gap has cool dresses in this price range)
How I wish I had the power to teleport myself to 1-U tomorrow!