Earlier this week, I received an email from La Senza promoting their biggest sale ever.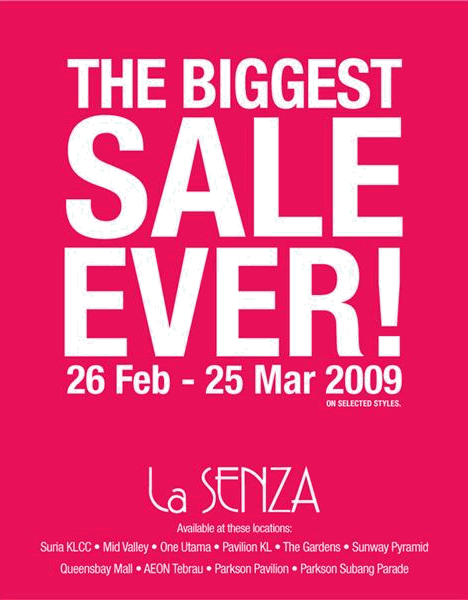 I thought nothing of it, because I obviously would not be able to check out the sale items, La Senza being in Malaysia, and I am in the States.  But I figured I would not miss much because the sale at La Senza comes and goes throughout the year.
Then today, I received another mail, this time from Citibank…promoting that all Citibank cardmembers would enjoy an additional 10% off on all La Senza sale items!  Never before have I experienced that before, so this is a first time.
…and now I am bummed that I'm gonna miss it.  SIGH.
Hey, when you shop for your new clothes for Chinese New Year, don't forget your innerwear as well.  The latest innovative bra from La Senza comes at the most appropriate time.  The ITEC bra (did they make it rhyme with hi-tech on purpose?)  – Is this bra as good as it sounds?  What better way to find out than now… don't miss out on the 15% discount promotion all ITEC bras from Jan 21-Feb 20 2008.  Go ahead, get a red one.  Works for Valentine's too.
On Halloween's, I made a quick stop at La Senza to see if I could utilize my 15% discount voucher. But upon entering the store, I realized that they were having a 3 for RM159 sale for selected items, including pajamas and bras. Of course the 15% discount still holds if I were to purchase a single item, but if I chose 3 pieces of lingerie which were on promotion, I would earn myself a hefty discount, much more than the 15%. Not being able to resist this sweet sweet deal, I chose 3 pairs of pajama bottoms. I already own 2 from La Senza and they are just super comfy. The three pairs I chose were all new arrivals; one costs RM99 while the other two were RM89 each. And I got them all for RM159! I can't wait to try them on…
Too bad October 31st was the last day of the sale, but I am looking forward to future ones. I am eyeing some pretty bras there too!
When I first shopped at La Senza not too many moons ago, I was asked if I wanted to be on their mailing list. Thrilled with the gorgeous lingerie I had purchased then and also because I was an avid shopper and all, I could not resist this opportunity, and so provided them with my details.  Since that day, I have been receiving emails and SMSes about La Senza storewide promotions and exclusive discounts.
And then two days ago I received this in the mail:
It was a La Senza Fall 2007 catalog cum magazine, filled with pictures and pictures of the latest styles in lingerie, tops and innerwear. The magazine showcased the latest La Senza Precision Fit™ Bra, some of the hottest runway looks and a vast collection of the latest designs in bras, hence the catalog tagline: Spotlight on Bras.  
The last time I browsed through something like this was when I subscribed to the Victoria's Secret mailing list in the States. Then, I would received periodic brochures and catalogs on the latest styles from that brand. What's cool about the La Senza mag is that it came with a 15% discount voucher, which can be used against any purchase in the La Senza stores. I did note that the 15% discount voucher is valid only till the end of October though.
Being curious to find out what the Malaysian website of La Senza had to offer, I was disappointed that it contained not much information about the styles that were being sold in the stores. In fact, I was more intrigued with the wealth of information found in the international La Senza site.
Well, anyway, the mag also promised an upcoming La Senza privilege card called the Prestige Program, which I believe is a loyalty program that will entitle the holder to a 10% discount storewide, and who knows, perhaps birthday goodies as well? And knowing me, of course I intend to sign up for it when it becomes available.  It only makes sense because I love shopping for lingerie!
So, anyone wanna take a guess as to where I'll be seen shopping this weekend?