Photo credits: Lunapads
After such a LONG delay, I am ready to announce the winner of the Lunapads Giveaway which I ran in July.  I do apologize for the tardiness, but the important thing is that I finally managed to tabulate all the entries and randomly selected a winner…
CONGRATULATIONS
to
Amanda
who says that, "My favorite is the mini pantyliner. It's a great size, isn't bulky, fits well without moving around, it's very soft and the fabric is cute!"
Amanda will get to choose one of the following as her prize:
One (1) Lunapads Sampler pack, comprising:
OR
One (1) Heavy Pad & Liner (suitable for postpartum and heavy flow use)
Amanda, I will be contacting you soon to obtain all your details, so be sure to check your mailbox!
Thank you to everyone who entered the Lunapads Giveaway.  In fact, the response was so good that our generous sponsor, Lunapads, has decided to give an exclusive discount of 10% for all orders over USD25 to all you readers out there.  Just use the code giddytigers09 upon checkout.  This exclusive coupon code is valid through December 31st 2009.
Do watch this space for more giveaways to come!
Rest assured, I have not forgotten about the Lunapads Giveaway just yet!  I have so many things going on right now, that I had no time to even list down the entries. 
However, please be patient…I am in the midst of compiling all the qualified entries and will be making the announcement of the winner soon!  Stay tuned!
 
Lunapads International is a women-owned small business based in Vancouver, Canada.  This company prides itself in creating products for women, especially for use in their menstrual cycles, that help promote a healthier lifestyle as well as making the earth a greener place to be in.  Lunapads offers a diverse selection of products designed to meet the unique needs of women of all ages. 
Prior to giving birth to my second child, I had tried Lunapads in the Maxi size, but was not totally in love with it.  I wanted the Maxi to be longer but it was not.  So when I had the opportunity to try the Heavy Lunapads especially suited for postpartum use and heavy flow days, I was excited.
 
I only had two Heavy Lunapads, and of course they weren't enough to sustain the whole of my postpartum period, so I used them interchangeably with the rest of my cloth pads, but you know what?  The heavy Lunapads were by far my favorites.  They were wide enough and long enough.  The pads are made from 2 layers of 100% cotton flannel based topped with a central pad made with 1 layer of ultra-thin nylon and 2 layers of 100% cotton fleece, plus ric-rac bands to hold the liners for added absorbency.  They also come with sewn-on 3 snap plastic fasteners.
I also love the vibrant colors they came in, and no, they did not stain at all!  Because I chose not to soak the pads, I washed and rinsed them immediately when I changed a new pad.  I used just warm water, and then I would throw the rinsed pads into the washer and dryer.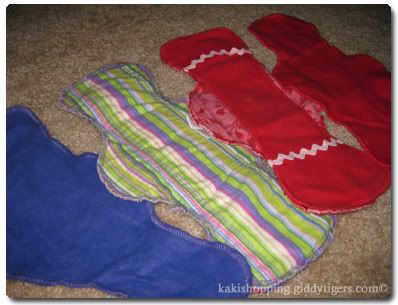 I admit I used the disposable maternity pads earlier on for a week or so, but after I ran out, I was on cloth pads all the time.  So much more comfortable and it feels great to do my bit for the environment!
Using Lunapads as postpartum pads is definitely the gentle way to go if you have had an episiotomy.  I didn't, but I would imagine using natural materials such as those on the Lunapad would be better than subjecting the episiotomy wound to harsh chemicals from dispoable pads.
Initially I was worried that I would find it a hassle to use cloth pads after delivery, but it does not take up much time at all.  As I mentioned earlier, I simply wash and rinse them with water, and then toss them into the washer.  Takes me just a minute or so before I shower.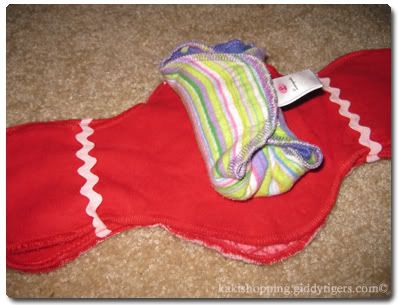 The Heavy Lunapads can be folded and snapped shut for storage especially when it is soiled and you don't have immediate facilities to rinse it out, but because it was quite large, I found it hard to button up.  I didn't have to use this button feature at all though, but it would be good to make the wings a little longer for easy buttoning.
All in all, I am glad to have had the opportunity to experience the Lunapads myself, and would recommend it to any woman who want to feel healthier.  Use them for your menstrual periods or try them out postpartum if you are about to deliver a baby soon.  Hey, so many people who have tried them can't be wrong, right?
Lunapads can be purchased online from the Lunapads site or from any of the other locations worldwide.
Now how would you like to win some Lunapads for yourself?  Whether you are just starting out on your cloth pads collection, or if you'd like to add some to your existing stash, you know Lunapads will certainly be a welcome addition!