Last week, my order of pretty fitted diapers from My Precious Baby by April arrived, and of course, I was as eager as ever to open up the parcel.  I had ordered these custom-made velour fitted diapers according to the colors and prints of my preference, so in a way, they were exclusive
Velour is 80% cotton, 20% polyester and feels soft and plush like velvet.  My Precious Baby by April fitted diapers are the perfect solution for the heavy wetter because these velour diapers have two full layers of velour in the body, and three layers of thirsty hemp fleece in the sewn in soaker.  I love that these diapers also come with an additional soaker to be added when necessary.
The velour fitted diapers come in two varieties:
The trim-looking no-ruffles look:
 
…and the girly-looking diaper with ruffles at the leg openings:
 
There are plenty of cute and adorable designs that can be selected for the additional soaker too, from boy prints to girl prints to gender-neutral prints.  I just love to color-coordinate the colors and prints, I think I can do this all day!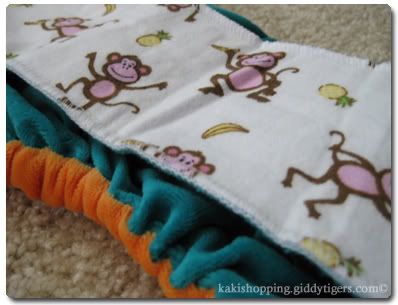 Although this part of the diaper does not get seen because it goes next to baby's bottom, I just love the thought of the nice prints and colors on baby
 
Of course, you could also request that the prints be on the outer shell of the diaper, if you prefer.  That's the beauty of customization.
My Precious Baby by April has a sale on now where if you buy 4 diapers, you'll get a fifth diaper free.  The sales ends May 25 2009.