Lookie, lookie, what have we here!  These pretty little things are called Teething Bling®s and were inspired by babies who like to tug on jewelry.  As a mom, I am always vigilant about the type of jewelry I wear, and welcome baby-friendly jewelry.  And as someone who ADORES pendants, this is something I could not resist!
As you can see, the Teething Bling® meets all of my requirements to qualify as a pretty chic accessory I could wear day in and day out.  Here's why:
It's practical.  No fancy-schmancy jewels and stones and beads; just simple, understated and clean cut.  This means it goes with almost everything I wear!  From jeans to skirts to evening gowns, it is truly a one-design-fits-all!
There are so many colors and designs to choose from; okay maybe it just comes in a donut and heart shape now, but in terms of colors, the possibilities are endless!
It's safe for baby, because it is non-toxic, phthalate, BPA, PVC and lead free.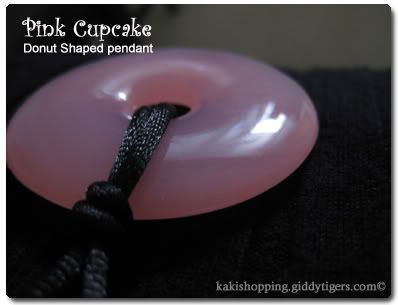 Last weekend I put on the Teething Bling® just for the fun of it.  My daughter is not yet teething, so obviously she doesn't chew on it, but you know what's funny?  My 3-year-old son grabbed hold of the pendant and started chomping on it!  I didn't even tell him it was for chewing! LOL  The Teething Bling® is made of a rather soft bendy material, and it feels really easy on the gums!
In any case, I also discovered that the Teething Bling® works great as a nursing accessory too.  When I breastfeed my daughter, she would sometimes grab onto the pendant.  It certainly helps that the Teething Bling® comes with an open ended cord which I can tie and adjust the position of the pendant when I wear it.  I simply use a reef knot and it's secure!  Unlike other pendants that move around after I have adjusted the length, this one stays put, and at the end of the day, the reef knot is still securely fastened at the nape of my neck, even though my kids were tugging and pulling at it.
I am absolutely thrilled to have discovered these, although it would help if the colors are stated on the plastic wrappers they came in.  Now I have to guess which colors are which…
Every mom should have one of these.  They even come with matching bangles!  And you know, even if you don't have kids, wearing a Teething Bling® is still useful because you never know when you might meet a mommy friend with a kid in tow!
The Teething Bling® retails for USD19.10 (except for the silver one which is USD21.20) and comes in a variety of solids and patterns, in donut and heart shaped pendants.  Coordinating bangles are USD12.75 each.