I received this package from Wett Giggles a couple of days ago, comprising these cute and adorable little things!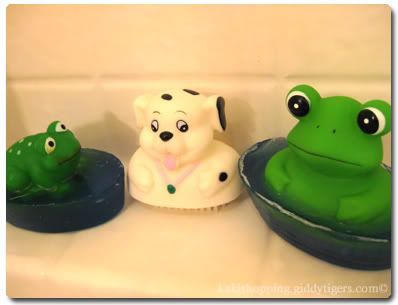 What are they?
Well, you'll be intrigued to know that these are natural handmade glycerin soaps made with essential oils and shea butter, and they each come with lovely fruity flavors.  The soaps come with an animal-shaped bath toy embedded into it, and most of the toys double up as a gentle-to-use nailbrush.  In fact, the inspiration to create these soaps came when the creator wanted to instil hygiene into her son, hence the brush and soap.
All these adorable soaps have cute Shakespearian names too.  The ones we received were Hamlet (soap with brush), Horatio (soap with toy) and Cupid (just the brush).  Both Hamlet and Horatio are watermelon-scented soaps, and they smelled so good I was tempted to take a bath myself! LOL
Upon seeing his new bath buddies, my son, who most of the time is very reluctant to bathe, eagerly got into the bathtub!  He played "Row, row, row your boat" with Hamlet and washed himself all over with Horatio.  However, the slippery nature of glycerin soap made him drop the soap a few times, resulting in funny giggles..  After all, it was his first encounter with bar soap, as I have always ever only used liquid soap with him.
Well, some of the soap got into his eyes though, and when he tried to wash it off, it resulted in more soap, because he would not let Hamlet go!  When he finally let Hamlet go, and I was able to give him a rinse, he was all smiles!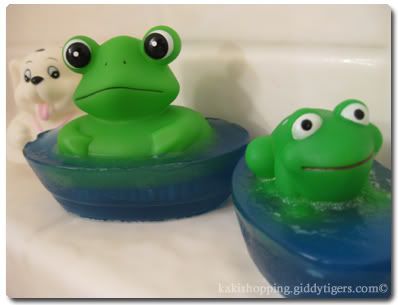 What a great bath toy concept to get kids to bathe willingly, though I don't know when the novelty will wear off
Wett Giggles soaps are sold for USD10 per soap with manicure brush, USD8 for soap without brush, and all toys with brush are USD5 each.  All soaps will come with a soap dish, while supplies last.  There is a "Buy 1 get 1 free sale" on everything right now and a flat shipping rate of USD4.99.  Just use the coupon code Carvpj09 (case sensitive) to get the savings.  Time to get yourself some wet giggles!